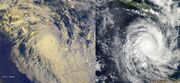 The Australian basin, in terms of tropical activity, is an area between 90E and 160E south of the Equator. Tropical cyclones, as they are known, are tracked by the Australian Bureau of Meteorology with Tropical Cyclone Warning Centres in Darwin, Brisbane and Perth.
Current outlook
Edit
You can view the current outlook of activity here.
Current systemsEdit
None
Ad blocker interference detected!
Wikia is a free-to-use site that makes money from advertising. We have a modified experience for viewers using ad blockers

Wikia is not accessible if you've made further modifications. Remove the custom ad blocker rule(s) and the page will load as expected.